See on Scoop.it – Pahndeepah Perceptions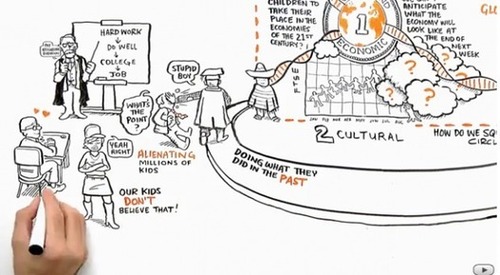 Why haven't education reform efforts amounted to much? Because they start with the wrong problem, says John Abbott, director of the 21st Century Learning Initiative. Overhauling the educational paradigm means replacing the metaphor — the concept of the world and its inhabitants as machine-like entities — that has shaped the education system, as well as many other aspects of our culture.
Keith Wayne Brown's insight:
"…The emphasis has been on feeding children static information and rewarding them for doing only what they're told, instead of helping them develop the transferable, higher-order skills they need to become life-long learners and thrive in an uncertain future…
"This approach — a product of the Industrial Age, which relied on compliant factory workers and mass consumption — promotes weakness rather than strength. It has become even more regimented (and thus more disempowering) in recent years due to a lack of trust. Adults who feel hard-pressed to predict or control their own destinies, and who feel confused about the "big issues of life," Abbott notes, are less willing to give children the time and space they need to shape their own futures.
"Unfortunately, he adds, this approach to education goes against the grain of how young people learn. Research has confirmed what most parents of young children can already see for themselves — that children areborn to learn, rather than to be taught, as Abbott puts it…"
See on blogs.kqed.org